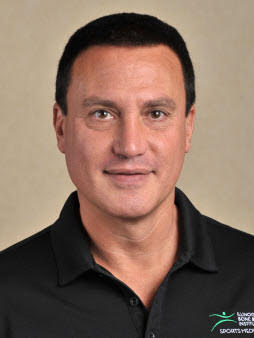 Dr. Chams is a board certified orthopaedic surgeon specializing in Sports Medicine, knee and shoulder disorders. He was fellowship trained at the prestigious Southern California Orthopedic Institute where he received specialized training in minimally invasive arthroscopic surgery of complex knee and shoulder disorders and sports injuries. After his fellowship, he introduced many of these innovative procedures that had not previously been performed to the area, including cartilage restoration.
Dr. Chams has been in practice with the Illinois Bone and Joint Institute for over 20 years where he currently serves as a board member. His extensive Sports Medicine experience includes treating thousands of professional, NCAA, amateur athletes, as well as work-related injuries. Dr. Chams is the team physician for the Chicago Red Stars professional women's soccer team of the NWSL. He is a longstanding team physician for Lake Forest College, as well as multiple high schools and club sports teams. He has been chosen as a team physician for the US Soccer Federation Men and Women National Teams.
Dr. Chams has presented at national meetings, published multiple journal articles, instructional videos, and has authored a textbook chapter on Advanced Shoulder Arthroscopy. He continues to be active as a member and instructor for the Arthroscopy Association of North America (AANA), American Association of Orthopedic Surgeons (AAOS), and the American Orthopedic Society for Sports Medicine (AOSSM), teaching advanced knee and shoulder arthroscopic surgical technique courses for other orthopedic surgeons. He is an instructor for the Residents / Fellows Advanced Surgical Arthroscopic Shoulder/ Knee Course at the Academy Learning Center and continues to routinely teach medical education courses for physicians, physical therapists, and athletic trainers.
Dr. Chams has been honored with numerous awards and titles, including "Top Tier MD", "Chicago's Top Doctor", American Registry "Patient's Choice" and Becker's Orthopedic Review "Outstanding Knee Surgeons". He has been selected to "America's Top Orthopedists "by the Consumer Research Counsel of America for the last 15 years. Today he brings to IBJI advanced experience in Platelet Rich Plasma Therapy, also known as PRP, and is on the cutting edge of stem cell therapy.
Dr. Chams has performed over 25,000 arthroscopic knee and shoulder procedures (approximately 1500 each year). He is the most experienced arthroscopic surgeon in the area, performing the largest number of ACL and Shoulder Reconstructions. He is proud to be the leading choice of the area's medical community, physical therapists, athletic trainers, athletic directors, coaches, and athletes. He has extensive experience with revision surgery, IMEs and second opinions. An innovator in arthroscopy, he currently works with industry/engineers as a physician consultant.
Dr. Chams is constantly refining his surgical procedures, being on the cutting edge of new less invasive procedures including the use of orthobiologics, always striving for the best possible functional outcomes. All surgical procedures are entirely performed by Dr. Chams himself without the use of residents or fellows. All of the procedures are digitally recorded for the patient and physical therapist to aid in the education and rehabilitation. The most advanced surgical and non-surgical options are discussed with patients and their advocates to make informed decisions about their treatment.
Dr. Chams is proud to have assembled an exceptional team of Athletic Trainers, Physician Assistants, a Nurse Practitioner, an Orthopedic Tech, a Surgical Tech, Medical Assistants, and a Surgical Assistant that are always available to help educate and assist his patients. He believes in the importance of close communication and teamwork among the surgeon, therapist, ATC, coaches, and family to provide the best possible outcomes.
State of the art/ Minimally invasive surgery